Call for artist proposals! This project is a partnership among HDR, the Arts Council of the Valley, and Harrisonburg City Public Schools.
The application period for this project has closed. Stay tuned for more information.
Timeline
September 2018: Open call announced
November 21, 2018 (by 11.59pm): Submission deadline
December 11, 2018 : Selection made / Announcement
January 4, 2019: Final proposals due from finalists
January 11, 2019: Final proposal selected
February 2019: Artist to meet w/ Harrisonburg High School students
March 2019: Design submitted for approval by Harrisonburg City Council
March-May 2019: Fabrication
June 2019: Installation and Launch Party
Budget
$10,000 — All-inclusive budget for an artist or artist team for the commissioned art project, including design; materials; fabrication; delivery; installation; and travel expenses.
Brief
HDR and The Arts Council of the Valley accepted proposals from artists or artist teams who wish to be considered for a commission of a permanent sculpture to be placed in Downtown Harrisonburg, VA alongside our existing LOVEworks sculpture. This new sculpture, inspired by the phrase, Language of Love, will join LOVEworks to develop a permanent sculpture garden in the heart of Harrisonburg's Downtown.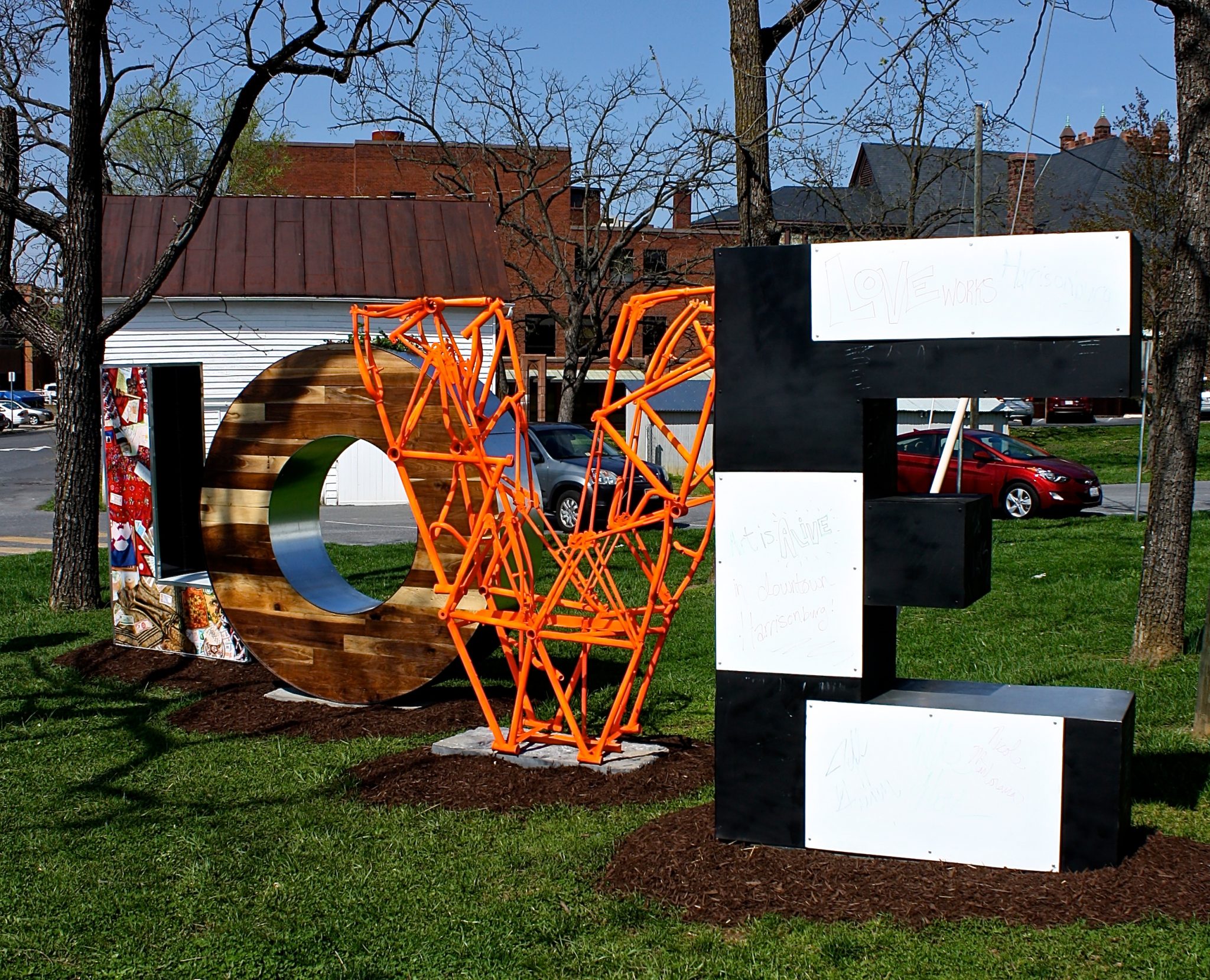 ABOUT HARRISONBURG VA and LOVEworks SCULPTURE
Harrisonburg, Virginia is an independent city located in the central Shenandoah Valley region of Virginia. Harrisonburg is located right along Interstate 81 and is only two hours away from both Richmond and Washington, D.C. Harrisonburg is the county seat for Rockingham County.
Harrisonburg and Rockingham County compose a unique community in the heart of the Shenandoah Valley, with a diversity of ethnic backgrounds, a rich agricultural heritage, an abundance of outdoor recreation opportunities and a vibrant and growing arts scene. The current LOVEworks sculpture is a public artwork designed by artists Nicole Martorana, Jeff Guinn, and Mike Herr. Developed as part of the 2013 Virginia is for Lovers social media marketing campaign by the Virginia Tourism Corporation, it received additional support from Harrisonburg Tourism, HDR, and Arts Council of the Valley, as well as contributions from individual and business community partners.
Each of the four letters represents one of four focus areas – ethnic and cultural diversity, agricultural heritage, outdoor recreation, and the arts – and is constructed of locally sourced and re-purposed materials. LOVEworks Harrisonburg is the perfect backdrop for photo opportunities, performance art, picnicking, and other forms of community engagement in historic downtown Harrisonburg.
Project Details
The exciting Language of Love project will ask local, regional and nation-wide artists to consider how ideas of inclusivity and multiculturalism translate into visual experience. While the project can be sculptural, installation, light or sound art, or a mix of media, it must be representative of the people and communities that make us Harrisonburg. Largely due to immigrant relocation projects in conjunction with the State Department and area non-profits, Harrisonburg has emerged as a true melting pot. Currently, more than 50 languages are spoken in our high school. When thinking about inclusivity and our future, it is important to consider our youth. Teenagers who fill the halls of our high school represent a broad range of ideals and beliefs. This project will include a facilitated session with these students to help gain some insight on the values, topics and ideas of interest to this age group. The youth session is designed as a research and data collection opportunity, with the artist/team determining how that input will be incorporated into the project.
Selection Process
Completed proposals that meet criteria for artistic merit and excellence, as well demonstrated success with community engagement, will be brought to the selection committee, which include Andrea Dono, John Ros, Jenny Burden, Councilman Christopher Jones, Councilman-elect Sal Romero, J.R. Snow, Laura Thompson, and Aderonke Adesanaa.  HDR Board member John Ros will chair the committee, and serve as artistic director and primary consultant with the selected artist or artist team. Artists are strongly encouraged to become familiar with Harrisonburg's culture, history, and "Friendly City feel" before submitting a proposal. We are not looking for cookie-cutter, plop-art, sculptural pieces. We are looking for unique, experiential and locally-inspired artwork that will truly speak to Harrisonburg residents and visitors alike.
All proposals are due to HDR by November 21, 2018. Only completed and properly formatted proposals will be considered. Proposals seek examples of prior work and only initial design concepts for this installation. Final designs will be created by the artist after meeting with area youth to gain inspiration from the community before creating a final design. Finalists will be contacted directly to provide a supplemental proposal for final consideration. Selected artist or artist team will be informed by December 10, 2018.
Submission Requirements
Please provide the following in one (1) collated .PDF document.
Initial statement of interest including contact info, bio, previous community engagement projects, specific reasons for interest in this project (no more than 375 words)
Artist CV
Artist Statement
Work Samples of previous, similar projects
Information about work sample projects including location, scope of project, client name and contact, project budget, and materials used
Written proposal for Language of Love project (no more than 750 words). Include specific connections to Harrisonburg, sample questions for high school students, other types of possible community engagement activities, etc. (We understand your initial project ideas may alter as more research and engagement with community occurs. These initial ideas are for reference only and will help the selection committee gain a better sense of your vision for the project). 
Draft sketches of initially proposed project.
Minimum of three (3) references. At least two (2) of recently accomplished similar public works.
How to Apply
Proposals no longer are being accepted at this time.
Questions?
Email Andrea Dono of HDR or Jenny Burden of the Arts Council of the Valley.