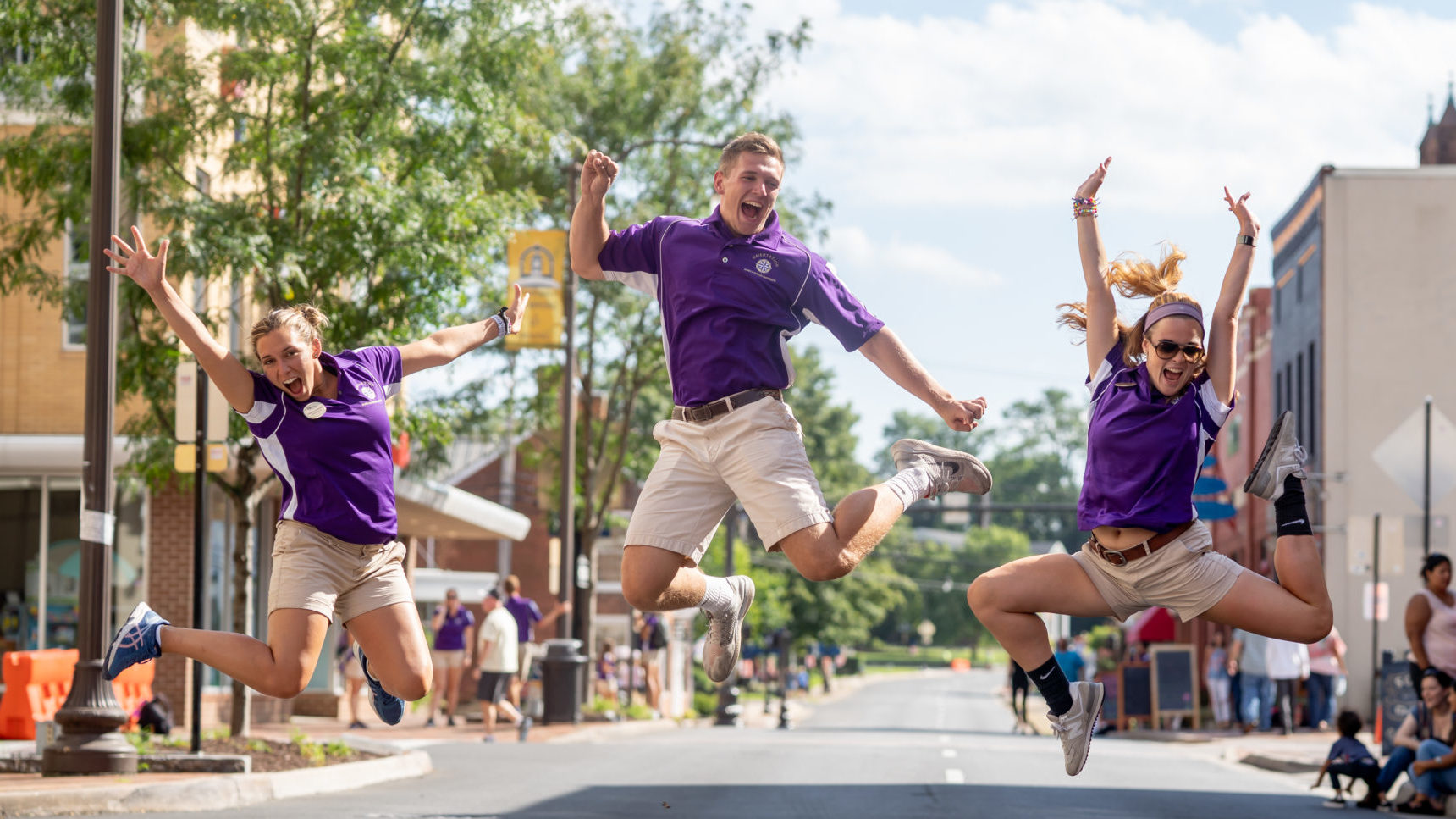 Block Party in the 'Burg
Saturday, August 24, 2019 
4:30-6:30pm 
Thanks for joining us in welcoming JMU's class of 2023! To our new Downtown Duke friends — the Block Party Bucket list is now live! You have until the end of Fall semester to check items off your bucket list for a chance to win $100 Downtown Dollars! See below for instructions and more details. We can't wait to see you around Downtown!
Check out the highlight video and visit The Breeze for a recap of this year's event!
DOWNTOWN BUCKET LIST
Want to win $100 to spend downtown? Each item you check off the Downtown Bucket List by the last day of fall semester classes (Friday, December 6th) is a chance to win!
HOW TO CHECK ITEMS OFF YOUR BUCKET LIST:
1) Take a photo of the item, event or experience and post it on your personal Instagram account
2) Follow the business and follow @downtownharrisonburg
3) Include the hashtag #dukesdodowntown19 in the caption
THAT'S IT! One luck winner will be selected at random and announced on Friday, December 6th!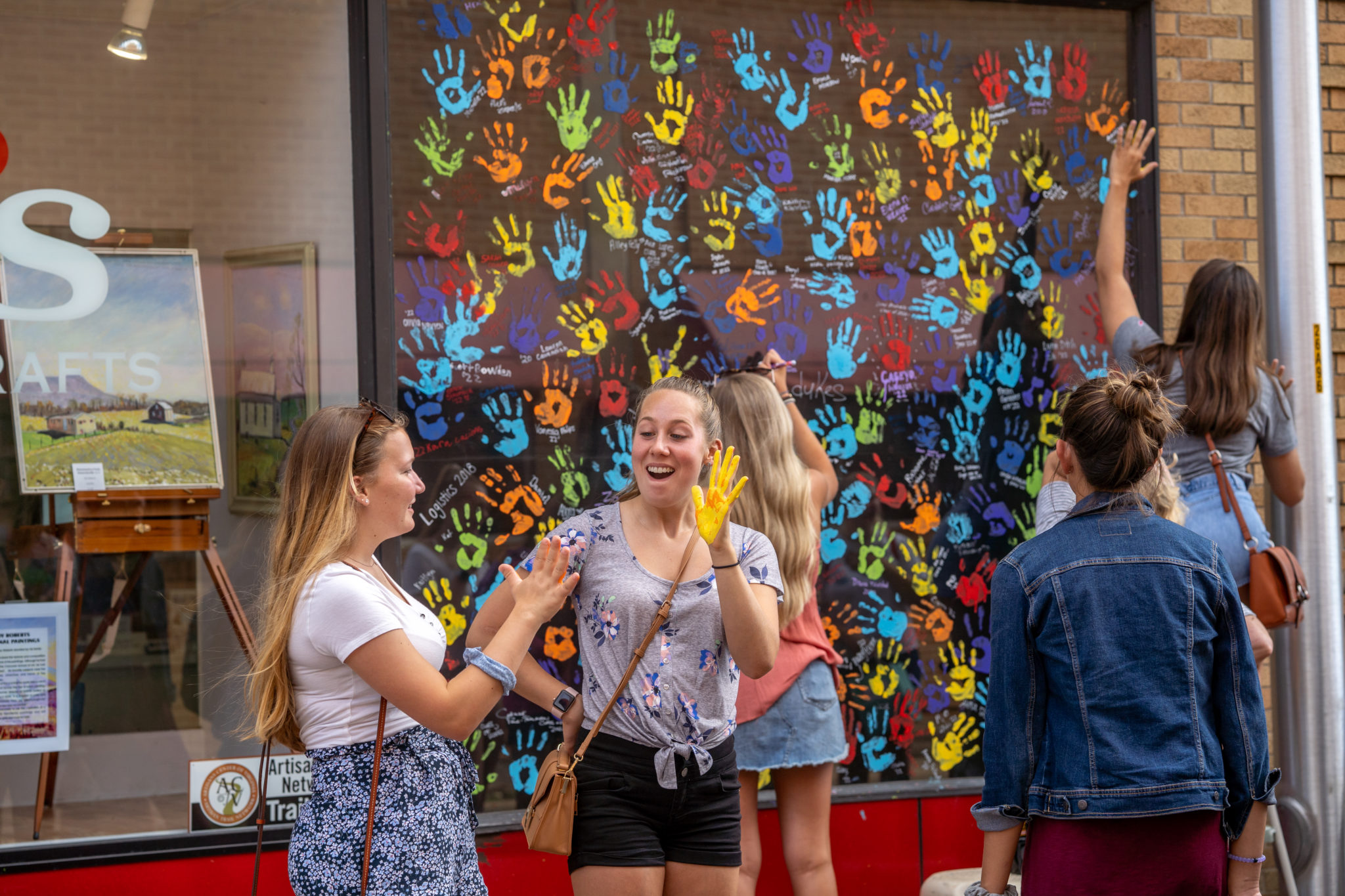 Eat, Drink, and Hang Out
| | |
| --- | --- |
| Bella Gelato Pastries | Try an affogatto or gelato float. Their toasted almond coconut sorbetto is our favorite dairy free option! |
| Bella Luna Wood-Fired Pizza | Get a full-size $5 artisanal pizza between 3-5:30 pm. We also love their meatball sandwich. |
| Benny Sorrentino's | Get a $4 pizza slice as big as your head! |
| Beyond | Sit on their scenic back patio and try the pineapple cream cheese wontons. |
| Billy Jack's | Try their famous Sticky Nuggs (boneless chicken bites tossed in your choice of sauce) for $4 on Thursdays! |
| Bittersweet Bakery | Try a sweet or a savory pastry. Don't miss their homemade poptarts! |
| Black Sheep Coffee | A great place to get a jump start on studying. We love their breakfast sandwhiches huge selection of loose-leaf teas. |
| Boboko Indonesian Cafe | We love everything on their menu, but especially their Indonesian chicken soup and vegetarian/vegan tempeh dishes. |
| Broad Porch Coffee | We love their lattes, cold pressed coffee and super friendly staff. |
| Brothers Craft Brewing | Attend their weekly Trivia Night every Monday starting at 7:30. It's free to play, you can play alone or in a group, and there are prizes to be won! |
| Capital Ale House | Try their burgers! Score one for 1/2 price from 10pm-close Sunday through Thursday. |
| Clementine Cafe | A great place to catch live music! We also love their Thursday night Team Trivia from 9pm-11pm. |
| Cuban Burger | Try their award-winning burgers! Get one Tuesday night for 1/2 price from 7-9pm. |
| El Paisano Bakery | Try a concha or a bolillo bread stuffed with chorizo or cheese & jalapeños! |
| Finnigan's Cove | Come by for their daily specials (including JMU-favorite $0.50 wing Mondays and Thursdays!) |
| Food.Bar.Food | Meet friends at FOOD.BAR.FOOD for Happy Hour! They're giving you a Buy One, Get One to try their Happy Hour Menu of global comfort food small plates Tuesday-Saturday 5-6pm. Show your student ID, follow them on Instagram and claim your BOGO coupon by September 30th. BOGO coupon valid thru December 15, 2019. Share a picture from your Happy Hour visit and tag @food.bar.food with #happyhour for a chance to win dinner for two next semester! |
| Friendly Fermenter | Catch (or join in!) the Old Time Porch Open Jam on Sunday evenings. |
| Friendly City Pedicab | Ride the pedicab with your crew at the end of the night. Pricing is competitive and it's way more fun than a cab! |
| Habana Cafe | Don't miss Salsa Night, every Friday from 9pm-2am, and College Night, every Thursday starting at 9:30pm |
| Heritage Bakery & Cafe | Macarons, sticky buns, giant cookies, and more – but get there early before the case sells out! |
| Hotel Madison | Use your JACard at grace+main Coffee Shop! |
| Indian American Cafe | Enjoy a meat or vegetable somosa appetizer with pappad – lentil chips! |
| Jack Brown's | Try their famous Greg Brady burger or grilled cheese and get a fried Oreo for dessert. |
| Jess' Downtown Restaurant | Try their legendary hot dogs! |
| Jimmy Madison's | Enjoy dinner on their famous rooftop patio – be sure to order the Jimmy Sprouts! |
| Joshua Wilton House | A great date night spot! Check out Date Night on Tuesdays with a 3 course meal for only $35/person. |
| Kline's Dairy Bar | Print out their flavor card and hang in your dorm to stay up to date on their weekly specials. |
| L&S Diner | Order the Garbage Omelet for breakfast at this historic "railcar" diner. |
| Latin's Flavor | All you can eat tacos for only $6.99 every Wednesday! |
| Little Grill | One of Harrisonburg's most popular breakfast/brunch spots. Their blue monkey pancakes are a forever favorite. |
| Local Chop & Grill House | One of the best places downtown for a celebratory dinner. Of course we love their steaks, but the duck fat fries are an excellent and affordable treat! |
| Lola Mo's Deli | They have excellent daily specials – and we love their black and white cookies. |
| Magnolia's Tacos | Try the carne asada fries or one of their authentic tacos! |
| Mashita | Try their steamed buns, ssaam, or Korean burrito – they have plenty of vegetarian, vegan, and gluten-free options as well. |
| Pale Fire Brewing Co. | Visit our Little Free Library. Take a book, leave a book! |
| Pulp | Try an acai bowl or fruit-infused iced tea. |
| Restless Moons Brewing | Come by for live music, comedy night, and their Bring Your Own Book Club! |
| Rocktown Kitchen | Order the meatloaf for dinner or the fried chicken sandwich at lunch. |
| Ruby's Arcade | Try your hand at duck pin bowling, and check out Bingo is Life every Tuesday at 7:30pm! |
| Ruby's Lounge | We're fans of Acoustic Tuesdays, 9-11pm and Open Mic on Wednesdays, 8-11pm. |
| Shenandoah Joe | Try their awesome iced mocha. |
| Strite's Donuts | Try their blueberry donut! |
| Taj of India | We love their delicious and super afffordable lunch buffett. Only $9.95/person! |
| The Golden Pony | Their basement venue is one of the best places to see live music in Harrisonburg! |
| Three Notch'd Valley Collab House | Check out live music, comedy nights, and art markets! |
| Union Station | Try their famous house-smoked barbecue. |
Shops, Museums, and Entertainment
| | |
| --- | --- |
| Blue Ridge Dog | Give their shop dog, Dr. Indiana Jones, a biscuit and he'll give you a high-five! |
| Blue Ridge Florist | Stop smell the roses! And find the perfect gift or bouquet for that special someone. |
| Bluetique | Come in on Tuesday for "Student Tuesday" to get 15% off your purchase! |
| Bring Your Own | Stop by Bring Your Own in Agora Downtown Market Monday-Friday and show your JACard to receive 10% your purchase! |
| Cat's Cradle | Swing by to find a cat to adopt or learn how to volunteer at the neatest nonprofit around |
| Charlee Rose Boutique | "Check in" by taking a selfie in-store and tagging Charlee Rose Boutique on social media for a 10% off discount! |
| Court Sqaure Theater | The best place to see independent movies and art house flicks. Students get a reduced rate on movie tickets |
| Downtown Books | Find your new favorite book in this cozy independent bookstore full of finds from every decade. |
| Elk Run Mining | Visit the store pup and check out the jewelry crafted from local stones that Stuart mines himself. |
| Explore More Discovery Museum | Consider becoming a volunteer at Explore More Discovery Museum! Learn more about this opportunity by attending one of our fall volunteer info sessions. Visit iexploremore.com/volunteer and click on "College Info Sessions" for more information. |
| Frame Factory | You need some art to jazz up your room – come find the perfect piece and get it framed! |
| Friendly City Food Co-op | Check out their 99 cent table for fresh, affordable local produce. We also love their hot bar and salad bar for a quick lunch. |
| Gadget Town | Looking for a new laptop or tablet for class? Check out Gadget Town's selection. They also offer same day repairs! |
| Gamer Oasis | Join one of their Pokemon, Magic the Gathering, or Dungeons & Dragons gaming leagues. |
| Glen's Fair Price Store | The best place to buy your Halloween costume – come check out their selection! Bonus: Glen's has a huge selection of cameras and accessories. |
| Green Hummingbird | Purchase one of their indigo tye-dye, block printed, and other fun patterned fair-trade headbands to spice up any hair-do! |
| Harrisonburg Farmers Market | Pick up fresh, locally grown produce, or a quick breakfast and cup of coffee. Open year round on Saturdays and also on Tuesdays between April – Thanksgiving. |
| Heartworn Vintage | Deck out your dorm with Heartworn's vintage home goods and kitchenware. Show your student ID to receive 15% off. Post and tag your Heartworn Vintage finds on social media for 20% off! |
| Horizon Gifts | Check out Board Game Night every Friday at 7:30. 10% off board games with student ID. |
| Hugo Kohl Jewelry | Visit The Museum of American Jewelry Design and Manufacturing . While you're here, receive a free jewelry inspection and cleaning! |
| James McHone Jewelry | Come by and see their selection of vintage jewelry, dating back to the Victorian era! |
| La Confianza Tienda Latina | Find specialty grocery items, jewelry and clothing. Best place to find ripe plantains! |
| Larkin Arts | Great place to buy supplies for SMAD and fine arts students. Stop by during a First Friday to see the gallery, sign up for a class, and get inspired! |
| Laughing Dog | Check out their t-shirt line "Peace Dog Prints" |
| Lineage | Watch Paul make bags in their workshop and buy a locally designed and printed t-shirt! |
| Midtowne Market | Stop by for late-night snacks or your afternoon energy drink fix – be sure to check out the cool stained glass and skate deck art while you're there! |
| New Creation VA | Show your JAC card at their Agora Downtown Market location for 10% off your purchase. |
| Oasis Fine Art & Craft | Come by to see their ever-changing selection of local art and crafts (it's a great place to buy a unique gift), and be sure to check out the mosaic staircase! |
| Rocktown Bicycles | Stop by one of their free bicycle clinics or join a group ride! |
| Rocktown Gift Shoppe | Located in the Hardesty Higgins House visitors center, find a regonally or locally made gift for your favorite Virginia lover. |
| Shenandoah Bicycle Company | Try out an electric bike and join a group ride! |
| Shirley's Gourmet Popcorn | Try a snack box of Duke Dog Crunch and a drink for only $3.00! |
| Sparrow's Flowers | Purchase fresh local flowers and pick up a succulent plant for your dorm! |
| Specto Art Space | Check out their latest art exhibition! Also, receive 10% off your retail purchase with a student ID. |
| Ten Thousand Villages | Check out their Elephant Appreciation Event on Saturday, Sept 21–a day dedicated to celebrating and honoring elephants! They'll have different elephant themed snacks, sales on all elephant products, a Selephie station where you can take a selfie as an elephant, and much more. |
| The Isle Co | Known for their lotion candle — burn a candle, and pour a tiny bit of the melted soy on your hands for instant smoothness! |
| The Lady Jane Shop | Come by and get a photo with one of their foster cats from Cat's Cradle! |
| The Mark-it | Check out their selection of hand-printed shirts featuring local art and talk to Jeff about getting your own custom shirts printed. |
| Virginia Quilt Museum | Take a selfie with Elvis! |
| Walkabout Outfitters | The best place to find a new backpack—perfect for hauling textbooks or taking a day hike! Stop in to check out their selection and learn about their upcoming events and workshops. |
| Water Street Vintage & Bohemian | Be transported to the 70s at this groovy vintage spot |
| withSimplicity Beauty | Get a Free "Mini-Makeover" and check out their selection of hand-crafted, all-natural skincare and makeup. |
| Wonder Records | Shop their collection of vintage music equipment and pick up a vinyl record from their $1 section! |
| Yellow Button | Peruse the $50 and under rack for high-quality, feminine fashion finds. |
Dance, Yoga, Massage, and Fitness
| | |
| --- | --- |
| Breathe Pilates and Fitness | Spend the semester at Breathe – get a discounted semester group class pass ! |
| Dance & Company | Sign up for a dance class at Dance & Company! Classes offered in Ballet, Tap, Jazz, Hip-Hop, Modern, Musical Stage, & Irish Step. Visit www.dancenco.com for more information. |
| Dancing with Karen | Join them for a free dance lesson during First Fridays Downtown on Sept. 6, Oct. 4 or Nov. 1, 2019 at 5:30 pm. |
| Friendly City Dance Room | Keep it 100 with Club Dance 101! Learn popular club exclusives at the Dance Room- Zouk, Kizomba, Salsa, Bachata, West, and Reggaeton. |
| Pink Ambition Dance & Fitness | Take a Pole 1 class in this empowering, positive, and supportive Ladies-only pole fitness studio! |
| Restorative Massage Therapy | Enjoy 10% off your regular priced massage session with your college ID. They'll also give you 15% off for your birthday! |
| Rocktown Hot Yoga | Take a class at the only authentic Hot Yoga studio in the valley. |
| Shenandoah Yoga | Enjoy special rates on classes with your student ID. |
| The Center Yoga | Get 10% off Fire memberships with your student ID. |