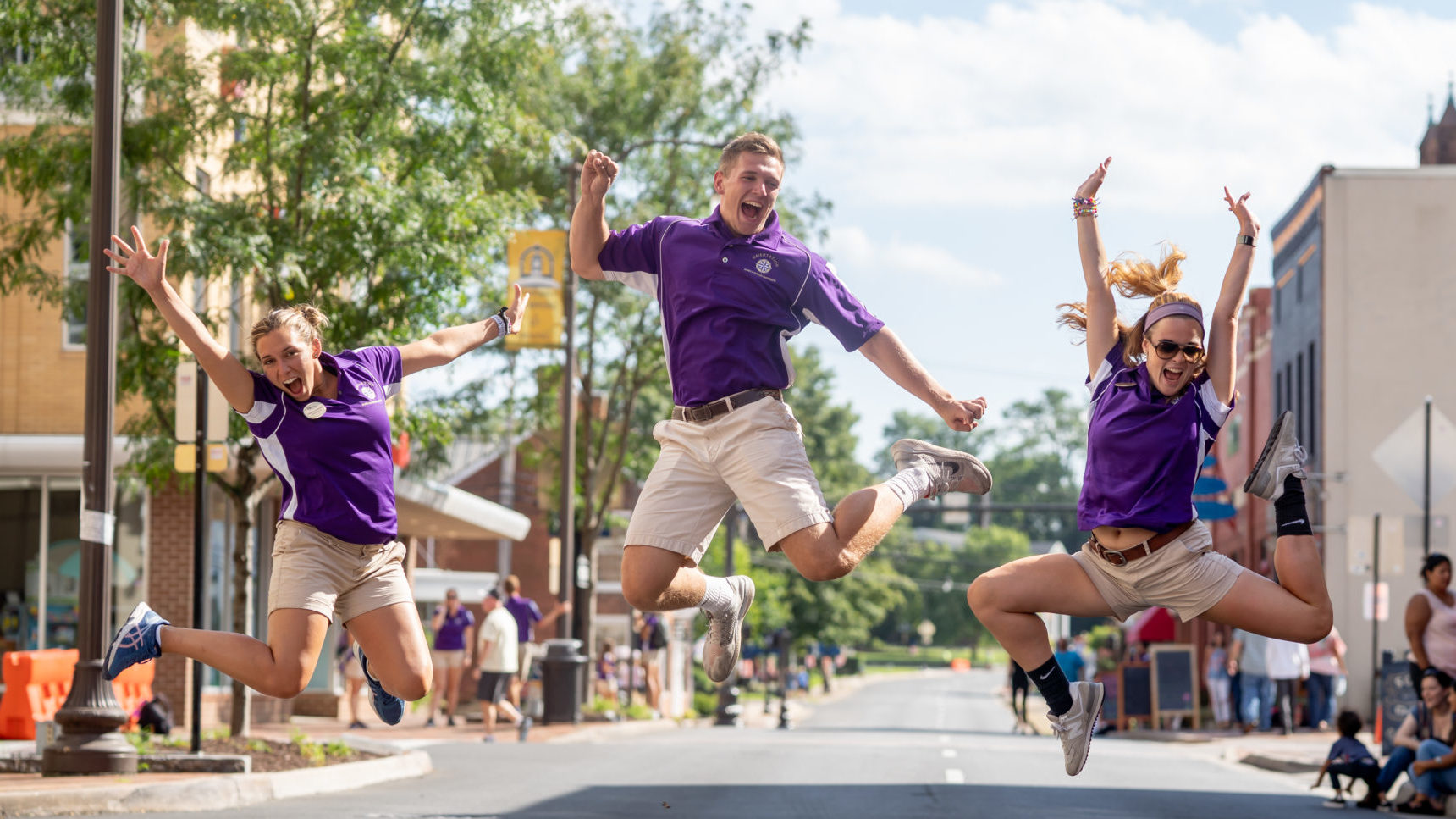 Block Party in the 'Burg Activities
Sunday, August 23 – Tuesday, August 25, 2020 
Welcome to Harrisonburg, JMU Class of 2024! Check out the list of activities below and explore downtown Harrisonburg at your own pace from Sunday, August 23rd – Tuesday, August 25th. And scroll through our recommendations for some of the best businesses to follow on Instagram – follow us (@downtownharrisonburg) during 1787 Weeks of Welcome and one lucky new follower will win a gift card to Jack Browns/Billy Jack's!
Block Party activites are made possible by:
25 Downtown Businesses to Follow on Instagram:
Friendly City Fortune Golden Ticket Scavenger Hunt
Daily from Sunday, August 23rd – Tuesday, August 25th
9am-11pm
Want to win a ticket for a chance to win $30,000 in cash or a new car? You could win a ticket to Harrisonburg Downtown Renaissance's $250,000 raffle, Friendly City Fortune. Check out the daily clue on WHSV TV-3, find the golden Fortune Ticket at that downtown business or destination, and upload a selfie with the ticket to WHSV.com. Proceeds from the raffle support Harrisonburg Downtown Renaissance's mission to build downtown Harrisonburg as a destination where independent businesses thrive and people enjoy memorable experiences. *Must 18 years or older to enter.
HOW TO WIN A GOLDEN TICKET:
1) For Monday and Tuesday hunts, watch the video to get today's clue. Is it Sunday? See today's BONUS CLUE here.
2) Find the golden ticket at today's featured downtown business or destination.
3) Take a selfie with the ticket and upload your photo to WHSV.com.
THAT'S IT! One luck winner will be selected at random and announced on Harrisonburg Downtown Renaissance's Facebook page the following day. Follow Harrisonburg Downtown Renaissance to find out if you're today's winner!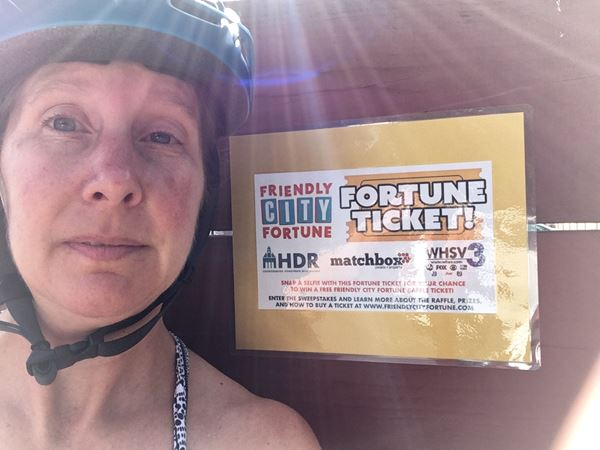 Downtown Art Walk
Daily from Sunday, August 23rd – Tuesday, August 25th
9am-8pm
Take a self-paced tour through historic downtown Harrisonburg and visit over 30 murals, statues and public art displays. This free art walk exists to share the talent of our local artists, the importance of the businesses and organizations who support them, and serve as an inspiration to all who pass through it. Access our easy-to-use, interactive digital map:
Downtown Bucket List
Daily from Sunday, August 23rd – Tuesday, August 25th
11am-9pm
Explore downtown Harrisonburg and take selfie for a chance to win $25 to spend downtown. Take a selfie checking an item off the "bucket list" of your choice, tag @downtownharrisonburg on Instagram or in your stories and we'll randomly select a winner daily from Sunday – Tuesday. Each photo you tag is another chance to win! See bucket lists below and select from the list of your choice. 
Bucket List #1: Downtown Sampler
Bluetique

Browse their selection for the lastest in women's fashion and accessories. Get 25% off your purchase Sunday-Monday only- just show your JACard!

Benny Sorrentino's
Get a $4 pizza slice as big as your head!
Gamer Oasis
All bags and wallets are 20% off.
Dukes Bar & Grill
Have a cheeseburger on their outdoor patio. 
Wonder
 This skate shop has more than skateboards. Browse their selection of records, shoes and apparel.
Water Street Vintage
Browse vintage clothing, accessories, and decor. 
Shirley's Popcorn

Grab a bag of their flavor of the month. Show your JACard, spend $5 and get at $5 gift card free.

Boboko Indonesian Cafe
We love everything on their menu, but especially their Indonesian chicken soup and vegetarian/vegan tempeh dishes.
Merge Coffee
Try one of their summer drink specials at their 

425 North Main Street location.

Jack Brown's
Try their famous Greg Brady burger or grilled cheese and get a fried Oreo for dessert.
Mashita

Try their steamed bun combo meal – and they have plenty of vegetarian, vegan, and gluten-free options as well.
Bucket List #2: Choose Your Own Adventure
| | |
| --- | --- |
| Black Sheep Coffee | A great place to get a jump start on studying. We love their breakfast sandwiches huge selection of loose-leaf teas. |
| Heritage Bakery & Cafe | Macarons, sticky buns, giant cookies, and more – but get there early before the case sells out! |
| Kline's Dairy Bar | Print out their flavor card and hang in your dorm to stay up to date on their weekly specials. |
| Latin's Flavor | We love their pupusas, arepas, and horchata any day of the week, but they also have incredible (and crazy affordable!) weekly specials. Check them out on Tuesdays for $1 pork pupusas |
| Pulp | Try an acai bowl or fruit-infused iced tea. |
| Horizon Gifts | Check out their selection of healing crystals and gemstones. |
| Magpie Diner | This brand-new breakfast and lunch spot is already getting attention for their fresh vanilla twists and peach french toast. |
| The Golden Pony | We love the Nile Nachos and their basement venue is one of the best places to see live music in Harrisonburg. |
| The Yellow Button | Peruse the $50 and under rack for high-quality, feminine fashion finds. |
| Oasis Fine Art & Craft | Come by to see their ever-changing selection of local art and crafts (it's a great place to buy a unique gift), and be sure to check out the mosaic staircase! |
| The Lady Jane Shop | Get a photo with shopdog, Lulu, or one of their foster cats from Cat's Cradle. |
Bucket List #3: Downtown Cornucopia
Bella Gelato Pastries
Try an affogatto or gelato float. Their toasted almond coconut sorbetto is our favorite dairy free option!
Walkabout Outfitter
The best place to find a new backpack—perfect for hauling textbooks or taking a day hike! Stop in to check out their discounted Walkabout Cambelbak water bottles.
Lola's Deli
They have excellent daily specials – and we love their black and white cookies.
withSimplicity Beauty
Check out their selection of hand-crafted, all-natural skincare and makeup. We love their mascara and non-toxic nail polish.
The Little Grill Cooperative
One of Harrisonburg's most popular breakfast/brunch spots. Their blue monkey pancakes are a forever favorite.
Sparrow's Flowers
Pick up a succulent plant for your dorm.
Billy Jack's
Try their famous Sticky Nuggs (boneless chicken bites tossed in your choice of sauce) FYI – they're only $4 on Thursdays!
Ten Thousand Villages
Check out their selection of hand-made, fair-trade jewelry.
the Grace Barre & Pilates
Students receive

a 33% discount on unlimited semester passes! Plus a 10% discount off any class pass using code STUDENT.

First Presbyterian Church
Stop by this church on Court Square and get a free JMU frisbee.
Charlee Rose Boutique
Show your JACard to receive 10%off an in-store purchase from 8/25-8/29
Blue Ridge Dog
Buy 2 JMU squirrel biscuits for dogs, get one free!
Glen's Fair Price
Stop in store to pick up a coupon for 50% off your entire purchase (excludes photographic equipment & supplies, and Ben Nye makeup).