Join the Elkton Progressive Improvement Committee for our inaugural EPIC Fest – Beer, Wine, and BBQ Festival on May 19, 2018 from 11am – 6pm.
The event will be located on the grounds of the Elkton Volunteer Fire Company Activities Building.
Beer: The Friendly Fermenter, Restless Moons Brewing, Blue Toad Hard Cider – Virginia,
Virginia Eagle Distributing will be providing the following: Bud Light, Brothers Craft Brewing, Pale Fire Brewing Company, Devils Backbone Brewing Company, South Street Brewery,Blue Mountain Brewery and Starr Hill Brewery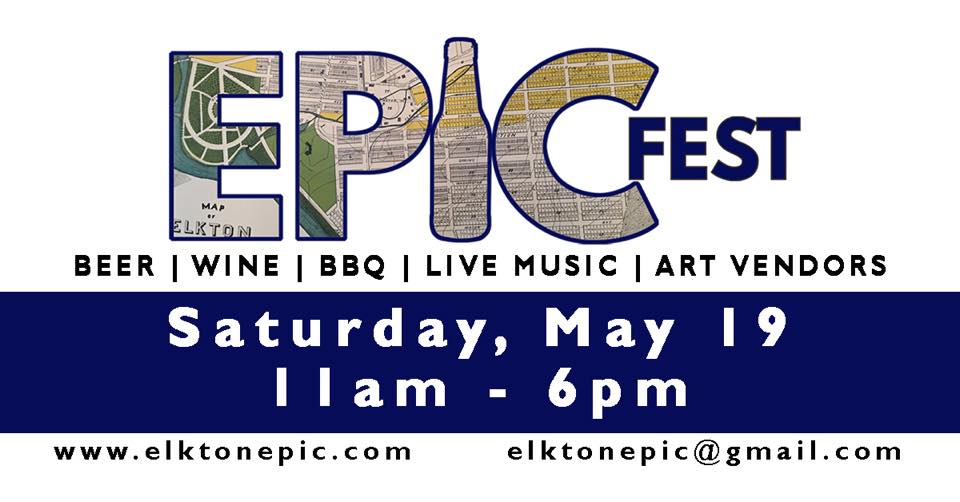 Wine: Bluestone Vineyard, Brix and Columns Vineyards and Hunt's Vineyard. We hope to add at least one more winery to this list.
Music line up is… Days of Eight, Six Shot Rebellion, That 80's Show – An 80's Tribute Band, Blue Mountain Road and Who Shot John
Ticket prices will be as follows and can be purchased at the ticket link above: (Cash purchases only for gate and drink tickets)
Gate General ticket (includes steel pint for first 600 guest) $25
Underage and Designated drivers: $7
VIP ticket (available online and limited quantities at the gate) You'll have exclusive access to the VIP pavilion overlooking the stage, early entry at 10:15am (better parking opportunities and you'll avoid the long lines at the gate), a 10:30am beer appreciation presentation at the VIP pavilion (Presented by The Friendly Fermenter), an exclusive bathroom, swag bag, steel pint and bottled water: $40
Security personnel will be present throughout the entire event to ensure civility and good order is maintained. Responsible drinking will be encouraged and our right not to serve individuals who are showing signs of intoxication will be advertised and enforced. Any
individual who causes a disturbance will be asked to leave, without a refund. Individuals will not be allowed to reenter the event after leaving. No pets will be allowed in the event. No rain dates are scheduled and refunds will not be provided due to weather.
#BeerwerksTrail #SipShenandoah #VACraftBeer #ElktonEPIC