In Harrisonburg, we value things like clean water, clean air, and the wild places that surround us. We're raising money for some brave folks with some good music, spoken word, and delicious brews. Free.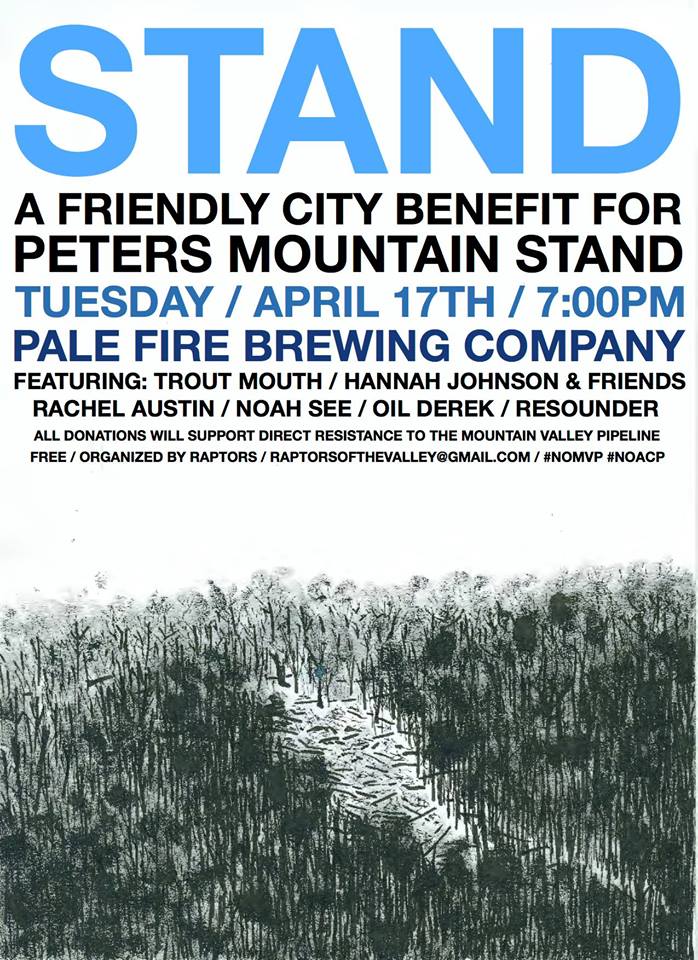 Since February 26th, 2018, Mountain Valley Pipeline resistors have been perched in trees high up on the Monroe County, West Virginia side of Peters Mountain. And on March 28th, 2018, a monopod structure occupied by one resistor on the Narrows, VA side of the mountain was erected as an aerial blockade of a Forest Service access road used for pipeline construction.
Through intense cold, high winds, rain, multiple snowstorms, and the threat of armed private security and USFS police, the folks of Peters Mountain Stand have STOPPED Mountain Valley Pipeline (MVP) from felling trees at their location on the WV side, thus stalling the construction of a drilling pad, where MVP plans to drill into the side of Peters Mountain and ram through a 42″ fracked gas pipeline, headed for VA. It's a pipeline that's unneeded, and has no named end users, being built by a shell company that will hold little to no responsibility for its inevitable and destructive consequences.
The scar now visible from tree felling would continue its path directly underneath the Appalachian Trail, through the karst terrain of Peters Mountain, taking fracked gas from Wetzel County, WV to the Transco line in VA – through Giles, Craig, Montgomery, Roanoke, Franklin, and Pittsylvania Counties.
MVP was permitted to fell trees in this area until March 31st due to restrictions on disruption of migratory bird habitats. That date has come and gone, and tree felling is now restricted until November.
This conflict is nearly four years running, with massive community resistance across the 303-mile path of MVP. Faced with the use of eminent domain and quick take to gain easements through private property, the tragic surrender of our National Forests by the USFS, and invasion of out-of-state corporations and contractors, those resisting MVP have been forced to put their bodies on the line. Some of them are taking to the trees.
These folks are standing up for thousands of Virginians and West Virginians, who have taken all legal measures to defeat MVP, so far unsuccessfully. They are standing up for millions of people who depend on healthy headwaters of their drinking water sources. They are standing up for our clean water, our irreplaceable wild habitats, our "protected" National Forests and threatened species, our family farms and communities – and especially Peters Mountain.
They will face thousands of dollars in fines, SLAPP suits, and most likely jail time for their incredible action.
(Keezletown old time and country)
(New re-sounds from Rockingham County)
Follow the Peters Mountain Stand story with daily updates at the Appalachians Against Pipelines page.
To learn more about the resistance to the Mountain Valley Pipeline, and how you can help stop it, please visit POWHR-Protect Our Water Heritage Rights.
RAPTORS (Rockingham Alliance for the Preservation & Transformation of Our Resources & Society – Raptors VA) is a solidarity group based in Rockingham County/Harrisonburg, dedicated to defeating the Mountain Valley and Atlantic Coast Pipelines, through assisting directly affected communities. You can reach us at 
RaptorsOfTheValley@gmail.com
.
SOLIDARITY with Peters Mountain Stand and pipeline fighters everywhere!